About Personaland
Personaland is an online global arts village. Our mission is to promote creativity and community worldwide. Members of Personaland can gain exposure by having their art showcased in our galleries. With over 500 artists in 53 countries, Personaland offers an international experience of art, music, and poetry using 3D game animation and technology.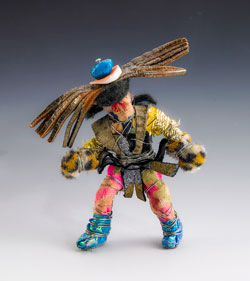 History
Nearly forty years ago, visionary artist Stewart Wilson experienced a creative urge that led him to create over 31,000 individual sculptures. These sculptures, named the Personas, are wire-wrapped representatives from another dimension. In addition to these sculptures, Stewart has created thousands of drawings, paintings, prints, and tableaus that have been exhibited and distributed worldwide. The Personas have been the topic of articles by The New York Times, MTV, Japanese fashion journals, Neiman Marcus catalogs, and numerous art publications. Stewart has also cofounded two non-profit arts organizations: Public Image (1980-84, NYC) and Artwell Gallery (1995-2011, Northwest CT).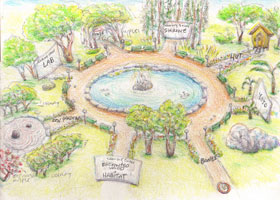 Creating Personaland
Stewart's relationship to the Personas has been more as a medium than a creator. He knew they had a story and purpose but understood that he had to patiently wait before discovering it. That "aha!" moment came during an unplanned meeting at Artwell Gallery with Kwame Antwi, a game designer. Using 21st-century digital technology, the Personas could exist in their own world and interact with a global community. After several years of design and construction, Personaland came to life.
Crew
In addition to Stewart, Personaland has been crafted and supported by many. Here is a partial list: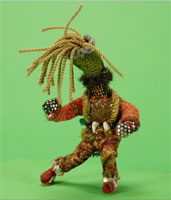 Kendall Noble – Model and Environment Designer and Animation
Elliot Berg – Web Designer
Ellesse Garvin - Administrative Director
Linda Donald  - Mistress of Mirth
Lisa Liu – Communications
Dam Mohajerin – Communications
Lelia Bacchi Curotto Levy - Art Shop Manager
Madhvik Nemani - Digital Assets Administrator
Thomas Mechem - Communications Specialist Intern
Emely Aguero - Communications Intern
Yonghang You - Art Shop Intern
Daniele Musni - Art Talk Intern
Mark Deslouches - Digital Asset Assistant Intern
Jeremy Corona - Art Game intern
Emmanuel Oladosu - Programming Intern
Business Consultants and Advisors - Jimm Meloy, Asa Steady Hardcastle, Robert Beckman, Scott Rossi
Thanks to - Andy Keplinger, Kwame Antwi, Michael Johnson, Megumi Kaneko, Max Bidna, Kirsten Hawthorne, Marty Shapiro, John Johnson, Maryse Jansen, David Behl, Jed Share, Harvey Redding, Lorrie McElligott, Marjorie Wang, Baaria Ahmad Chaudhary, Caitlin Mack, Kat Sullivan, David Calabrese, Ian Novak, Kate Kobayashi, Seyi River, Scott Vayer and many more.
Supporters
Thanks to all of you who have joined our community and those who will join in the future. A special and heartfelt thanks to our early supporters Agnes Gund, Trudy Elbaum Gottesman, Bob Gottesman, and Ralph Marash.